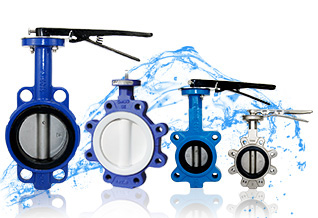 Applications
Butterfly valves are important to processes and operations in many different industries. This is because of their range in size and their ability to control the flow of liquids, gases, and slurries. Not only can butterfly valves stop or start flow, but when partially opened, they can also limit or reduce flow as desired.
Customers from many industries purchase butterfly valves, including those in food processing (liquid), waterworks, irrigation, pipe fabrication, industrial manufacturing, heating systems, and chemical transport.
While there are many different possible applications for butterfly valves, some specific uses include vacuuming, petroleum recovering, compressed air services, air and water cooling, HVAC, slurry services, high pressure water services, high temperature water services, steam services, and fire protection.
History
One of the first people to use the butterfly valve was Scottish engineer and chemist James Watt. Watt used them as an important hardware element in his steam engine designs in the late 1700s. People did not really begin using butterfly valves in earnest, though, until the 1870s, when engineers used them as a part of a device with which they controlled air and steam flow to fans and turbines.
As time went on, manufacturers were able to make butterfly valves that were smaller, lighter, more powerful, and more heat resistant. One of the most important changes for butterfly valves came after World War II, when engineers started manufacturing them with seal accessories. These seals were made from synthetic rubbers. With them, butterfly valves became suitable for a much wider range of applications.
Then, in 1969, an American named James E. Hemphill received a patent for an updated butterfly valve design. His design allowed operators to reduce the amount of hydrodynamic torque they used to shift the valve output.
While the general design and function of a butterfly valve has remained largely unchanged with time, some of the fabrication processes have changed due to advances in technology and knowledge. For example, manufacturers now understand more about how particular metals will react to fluctuations in temperature and high or low pressure. This knowledge helps to prevent costly system malfunctions and valve failures. Improved CNC machining equipment also makes it possible to cut the valve assemblies with such extreme precision that leaks are not possible and the pipe remains fully blocked off when the valve is shut.
Design
Materials
Manufacturers generally use plastic, stainless steel, or cast iron when creating butterfly valves. They occasionally also use aluminum. Different materials and standards of performance are expected for different applications.
Of the three main materials used to create butterfly valves, plastic is the least common. While it is cost-effective, it can't withstand harsh chemicals or high pressures.
Stainless steel is more durable than other metal (including untreated steel) and it can easily be cleaned in applications where sanitation is a concern. For the most heavy duty uses, cast iron is the material of choice. It's strong and able to hold back high pressure for as long as necessary when the valve is shut.
Considerations
When designing a butterfly valve, it is critical that manufacturers consider the properties of the liquid or gas that the valve will be expected to control after being installed.
Based on application specifications, manufacturers can create butterfly valves that come in a diverse series of standard sizes and custom sizes, and a wide range of hardware choices. For example, in some cases, manufacturers might design the shaft as two pins rather than one solid rod. To learn more about your custom options, talk to a butterfly valve supplier.
Features
Butterfly valves have a few main features. These include the body, the disk, the stem, and the seat. They also feature an actuator, such as a lever. Operators can turn the valve actuator in order to change the disc position.
The body is installed between two pipe flanges. Of all the different valve body designs, the most common are lug and wafer.
The disc works like a gate in the gate valve, the plug in the plug valve, the ball in the ball valve, etc. When it rotates 90° to be parallel to the fluid flow, the disc is in open position. In this position, the disc will permit all fluids to pass. When it rotates again, the disc enters closed position and blocks fluid flow. Based on disc orientation and design, manufacturers can manipulate operating torque, sealing, and/or flow.
The stem is a sort of shaft. It may be one piece or two pieces. If the latter, it's called a split stem.
The seat is connected to the body via pressing, bonding, or a locking mechanism. Manufacturers usually make the seat from a polymer or elastomer. The goal of the seat is to provide the valve with shut-off. That is why the value of turning force that a butterfly valve requires to close is called "seating torque," and the turning force that a butterfly valve requires to rotate its closure element is called "unseating torque."
Types
There are several types and series of butterfly valves, each with a unique purpose. These include high performance butterfly valves, pneumatic butterfly valves, butterfly valves with multiple shut-off points, triple offset butterfly valves, flanged butterfly valves, wafer style butterfly valves, lug butterfly valves, traditional butterfly valves, electric butterfly valves, AWWA certified butterfly valves, plastic butterfly valves, stainless steel butterfly valves, and aluminum butterfly valves.
High performance butterfly valves are used to control the flow in systems with extremely high pressure or high stakes. Examples of such systems include those that carry chemicals, slurries, and hazardous gases. Usually, high performance butterfly valves manifest as double offset valves.
Pneumatic butterfly valves, on the other hand, are optimal for pressurized air systems that operate at a much lower pressure.
Butterfly valves with multiple shut-off points are perfect for more complex systems.
Triple offset butterfly valves provide a tighter seal because they are mounted in three positions. At each position, they seal the pipe so that it will not leak.
Flanged valves are a version of the butterfly valve that uses a different method of pipe connection. Flanged butterfly valves have raised, or winged, edges in the enclosure so that they can be bolted in between two pipes.
Wafer style butterfly valves are installed in between two flanges with nuts and bolts. They are held in place by the pressure put on them by the nuts on the backside of the flanges. Wafer butterfly valves are one of the most common types of butterfly valve products.
Lug butterfly valves are butterfly valves that feature threaded metal inserts located inside bolt holes. With these inserts, users can install bolts without nuts. The main application of lug style butterfly valves is connecting and disconnecting piping systems from one side without distributing the other side of the system.
Traditional butterfly valves have a manually operated control lever.
Electric butterfly valves work using electronic controls, such as direct mount electric actuators. They are ideal for automated systems.
AWWA certified butterfly valves meet all of the safety and efficiency standards of the American Water Works Association. They are made from cast iron or ductile iron, with a rubber or stainless-steel seat. Most often, people use this valve type to move potable water, which is why they must meet standards for human consumption.
Plastic valves are simply discs composed of thermoplastic materials molded into one piece. Plastic valves offer the advantages of high flexibility and low cost. They are not, however, as thermally stable or pressure resistant as metal valves.
Stainless steel butterfly valves are used in applications where resistance to corrosion and oxidation is important for consistent performance. Stainless steel is not only corrosion resistant and oxidation resistant, but also easy to clean and sanitize. Unlike many butterfly valve types, stainless steel butterfly valves can be used in food and medical applications.
Aluminum butterfly valves are a less common type of butterfly valve. Customers value aluminum butterfly valves because they are strong and exceptionally lightweight. They have a big disadvantage, though, which is that they are not corrosion resistant.
Advantages
Butterfly valves offer many advantages to their users. First, they feature a compact design. Because of this compact design, they require less space to work than many other valves. Second, butterfly valves are fairly low maintenance. Next, they provide high quality flow blocking. Likewise, they do not leak, yet they are easy to open when you need to. Another advantage of butterfly valves is the fact that they are inexpensive.
Installation
Before installation, make sure to always test and carefully inspect your valves to ensure that no weak points are present. Then, proceed with installation per the instructions of your valve and flange manufacturer.
Standards
Because butterfly valves are popular in such a wide range of industries, a large number of regulatory organizations put out any number of standard series related to them.
American organizations that put out butterfly valve quality and safety standards include ASTM International, American Petroleum Institute, American National Standards Institute (ANSI), Manufacturers Standardization Society, and American Society of Mechanical Engineers.
International organizations that put out butterfly valve quality and safety standards include EEMUA (United Kingdom), BSI (United Kingdom), DIN (Germany), ISO (International Organization for Standardization), CSA (Canada), European Committee for Standardization, and JSA (Japan).
TFWVALVE China's leading butterfly valve manufacturer
Please contact us if you need help and inquiries.