DN600 Russian Standard WCB Hard seal Gate valve
Views: 14 Author: hong Publish Time: 2020-10-28 Origin: TFW VALVE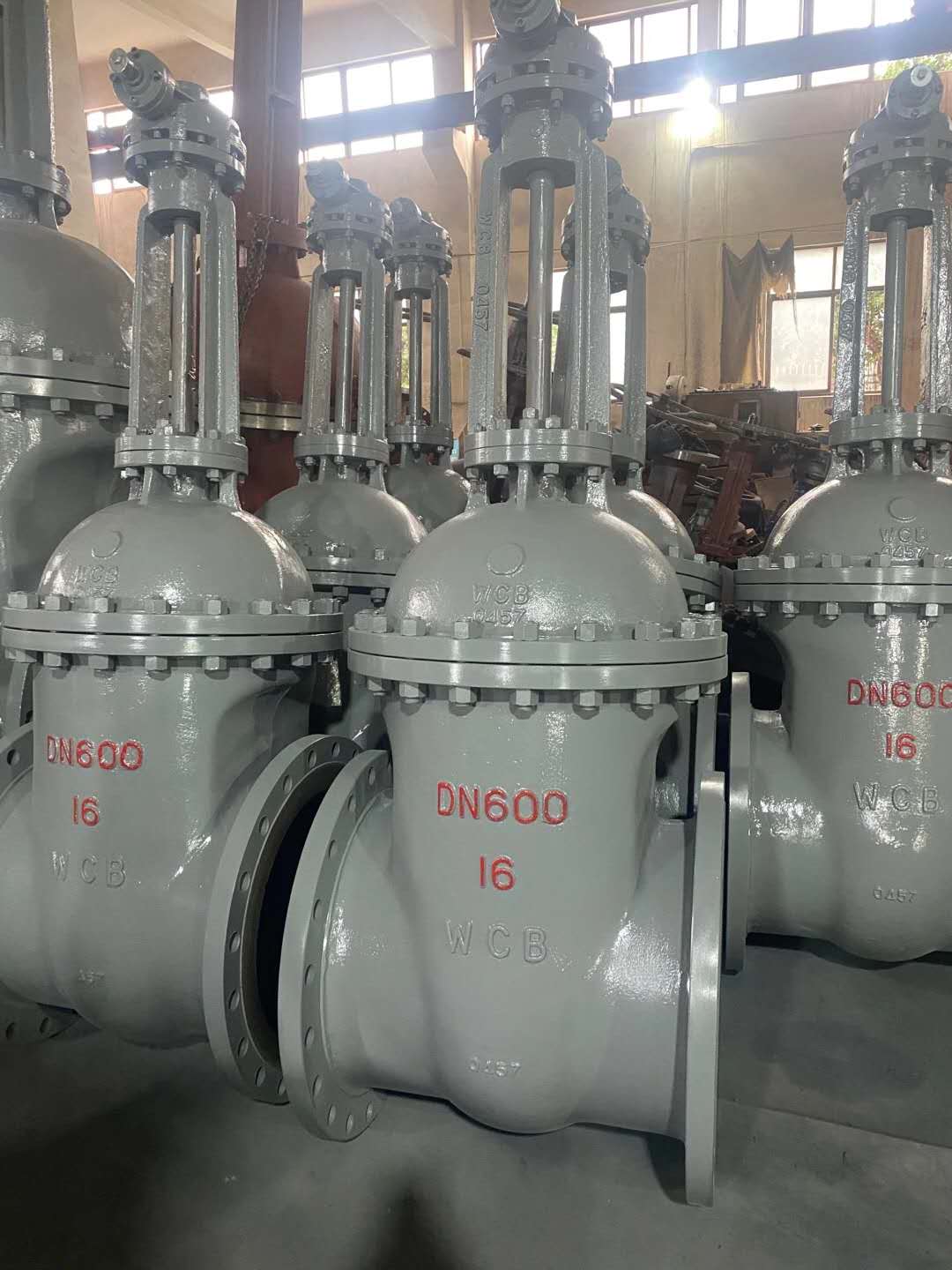 Features
1. Compact structure, reasonable design, good valve rigidity, smooth passage, small flow coefficient
2. The sealing surface is made of stainless steel and carbide, with long life
3. Flexible graphite packing, reliable sealing, light and flexible operation
4. The driving mode is manual, pneumatic, electric, gear drive.
5. The structure is elastic wedge single gate, rigid wedge single gate and double gate.
Gate valve drawing and gate valve weight
Performance parameters
Nominal pressurePN(MPa)

case

test pressure(MPa)

Sealed

Sealed (liquid)

Seal (gas)

1.6

2.4

1.8

0.6

1.8

2.5

3.8

2.8

0.6

2.8

4.0

6.0

4.4

0.6

4.4

6.4

9.6

7.0

0.6

7.0

10.0

15.0

11.0

0.6

11.0

16.0

24.0

18.0

0.6

18.0



Suitable medium and applicable temperature
| | | |
| --- | --- | --- |
| Shell material | Suitable media | Applicable temperature (℃) |
| Carbon steel (C type) | Water, steam, oil | ≤425 |
| Chromium nickel titanium steel (P type) | Nitric acids | ≤200 |
| Chrome nickel molybdenum titanium steel (R type) | Acetic acid | ≤200 |
| Chrome-molybdenum steel (type I) | Water, steam, oil | ≤550 |
The main part material
| | | | | | |
| --- | --- | --- | --- | --- | --- |
| Body, bonnet | Valve plate, seat | Valve stem | Stem nut | filler | Handwheel |
| Carbon steel | High-quality carbon steel + carbide or stainless steel | Chrome stainless steel | Aluminum bronze | Graphite asbestos packing | Malleable iron |
| Chromium nickel titanium steel | Stainless steel, stainless steel + cemented carbide | Chrome nickel-titanium stainless steel | Aluminum bronze | Teflon | Malleable iron |
| Chromium nickel molybdenum titanium steel | Stainless steel, stainless steel + cemented carbide | Chrome nickel-titanium stainless steel | Aluminum bronze | Teflon | Malleable iron |
| Chrome-molybdenum steel | Alloy steel + Carbide | Chrome-molybdenum steel | Aluminum bronze | Flexible asbestos | Malleable iron |
The main shape and connection dimensions
Nominal diameter




The main dimensions and connection dimensions

L

D

D1

D2

b

Z-d

H

D0

Z41H-16C

15

130

95

65

45

14-2

4-Φ14

170

120

20

150

105

75

55

14-2

4-Φ14

190

140

25

160

115

85

65

14-2

4-Φ14

205

160

32

180

135

100

78

16-2

4-Φ18

270

180

40

200

145

110

85

16-3

4-Φ18

310

200

50

250

160

125

100

16-3

4-Φ18

358

240

65

265

180

145

120

18-3

4-Φ18

373

240

80

280

195

160

135

20-3

8-Φ18

435

280

100

300

215

180

155

20-3

8-Φ18

500

300

125

325

245

210

185

22-3

8-Φ18

614

320

150

350

280

240

210

24-3

8-Φ23

674

360

200

400

335

295

265

26-3

12-Φ23

811

400

250

450

405

355

320

30-3

12-Φ25

969

450

300

500

460

410

375

30-3

12-Φ25

1145

580

350

550

520

470

435

34-4

16-Φ25

1280

640

400

600

580

525

485

36-4

16-Φ30

1452

640

Z41H-25

15

130

95

65

45

16-2

4-Φ14

170

120

20

150

105

75

55

16-2

4-Φ14

190

140

25

160

115

85

65

16-2

4-Φ14

205

160

32

180

135

100

78

18-2

4-Φ18

270

180

40

200

145

110

85

18-3

4-Φ18

310

200

50

250

160

125

100

20-3

4-Φ18

358

240

65

265

180

145

120

22-3

8-Φ18

373

240

80

280

195

160

135

22-3

8-Φ18

435

280

100

300

230

190

160

24-3

8-Φ23

500

300

125

325

270

220

188

28-3

8-Φ25

614

320

150

350

300

250

218

30-3

8-Φ25

674

360

200

400

360

310

278

34-3

12-Φ25

811

400

250

450

425

370

332

36-3

12-Φ30

969

450

300

500

485

430

390

40-4

16-Φ30

1145

580

350

550

550

490

448

44-4

16-Φ34

1280

640

400

600

610

550

505

48-4

16-Φ34

1452

640